Elance.com
-
How it works
I was browsing like all of you do and find new things and websites every now and then, sometimes 2 or more in a go and sometimes it takes a while to find a new noteworthy site.
Elance.com is a website where your desired work is done by professionals whether you want your website designed, document compiled for spelling mistakes, or have to get a professional article prepared for your site or in general. There are other services also provided by elance and the professionals who are working with elance. The services provided namely are :
Web and programming
Design and Multimedia
Writing and Translation
Admin support
Sales and Marketing
Finance and Mgt.
Legal
Engineering and Mfg.
About Elance
Today on Elance
Current date/time is Sun 31 Jan 2010 - 18:30 on this forum when the data was posted
30,073
New Jobs posted
Last 30 days
100,601
Experts
Providers active on Elance
$244,109,138
Provider Earnings
For services delivered
Find Work for you on Elance,
Click here to learn more

Admin





Posts

: 644


Points

: 9473


Reputation

: 62


Age

: 34


Location

: India (New Delhi)


Join date

: 2009-11-30



I signed up at elance.com , the site whose banner you see at the right

a few days ago hoping to find some work as a writer and this is what I recieved today
I am showing you this in images,
please be patient images take a 10 seconds to load
The mail is in 2 images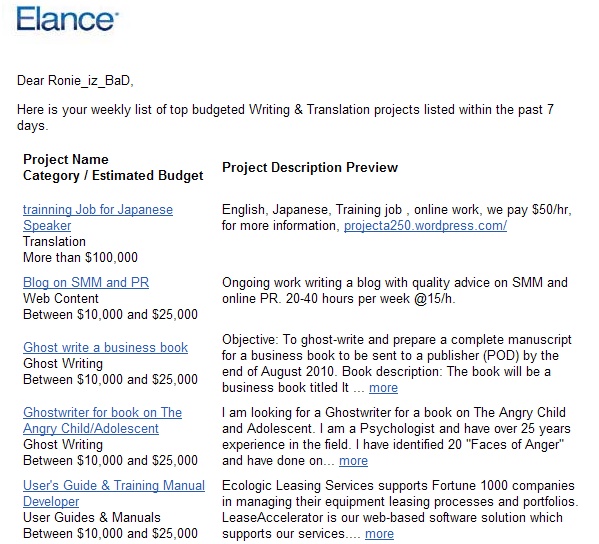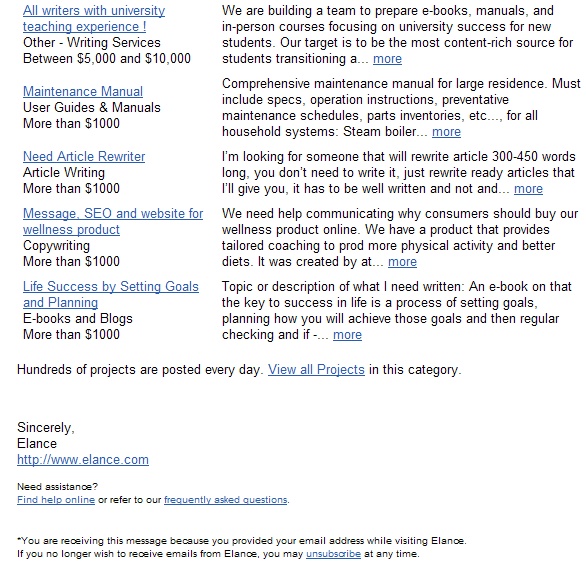 Admin





Posts

: 644


Points

: 9473


Reputation

: 62


Age

: 34


Location

: India (New Delhi)


Join date

: 2009-11-30



How much is min. required to payout, please say ?
Subscriber





Posts

: 200


Points

: 6836


Reputation

: 11


Join date

: 2009-12-04



Hi, this is Nicole from Rent a Coder. Rentacoder provides access to programming, writing, illustration, even data entry jobs. (You can get a sense of the broad scope of work available here: ).
I'd like to point out a few differences between our service and services like Elance since those differences could influence your satisfaction and earnings.
===
Cost:
===
The more a site charges you, the less you have to put in your own pocket at paycheck time. Unlike Elance, Rent A Coder does not charge you a monthly subscription fee for any bidding or certification privileges.
1) Free and unlimited bidding and certification privileges
-------------------
Workers on Elance cannot place more than 3 bids a month unless they pay a subscription fee ($9.95/month for 20, $19.94/month for 40 or $39.95/month for 60). The majority of sites do not charge subscription fees.
===
Working with a new buyer on Pay-for-Deliverables projects:
===
The cheapest and easiest way to work with a buyer is to bill by the hour (called pay-for-time). However, a new buyer doesn't know yet that you're productive, and won't run up a huge bill with fluff hours. To help you establish that trust, both Elance and Rent A Coder let you work with them safely by bidding a fixed price for the final deliverables (called pay-for-deliverables). However, Elance's extra charges for arbitration may make it prohibitively expensive to exercise your rights.
2) Payment Guarantee
------------------
If a buyer doesn't pay you for work you've properly delivered (fully completed by the deadline and up to industry-expected standards), then both sites will step in and pay you via arbitration. However Elance charges you $66-$133 to do this. This may also make it impractical to get paid on smaller projects. Rent A Coder, on the other hand, does this for free, so you never have to think twice about exercising this guarantee.
3) Arbitration
---
On Rent A Coder you can start arbitration immediately. A buyer intent on abusing the system can stall the start of arbitration on Elance for 21 business days and during this period your money is not available to you. During the first phase (dispute assistance), the buyer has up to 3 business days to respond, and can make this phase last up to 12 additional business days (15 business days total). After this, the arbitration phase 'begins', but does actually start because the buyer is given 3 business days to acknowledge the notice of arbitration, and the another 3 business days if they did not acknowledge the first notice. Only at this point is arbitration actually started. See the Elance contract for more information.
===
Working with a buyer you know on Pay-for-Time projects:
===
Once a buyer trusts that you won't bill them for unproductive hours, you can bill them by the hour (called pay-for-time). This has many advantages over pay-for-deliverables including cheaper fees, flexibility (you don't have to define all the requirements in advance to start working) and less risk (under-estimates are no longer your responsibility to bear). However Rent A Coder guarantees all hours worked, while Elance does not.
4) Guraranteed Payment
------
Elance does not guarantee any hours until you've worked at least 80 hours. During this time you may find yourself working for free. Elance only guarantees to pay you for the first 40 hours you work in a week. If you are working longer hours to help a client, you may find yourself working for free. Rent a Coder guarantees payment for all hours worked.
For more details on the above see:

To learn about additional differences (as well as compare the other 5 major sites), you can click here:

If you have any questions, please let me know. You can also call in to talk to a facilitator 7 days a week, or email us (see ).
Nicole



I couldn't help but notice that Nicole from Rent A Coder (vWorker as it is now called) failed to mention a major flaw in their system. So, please allow me to do so...

Nicole says that you can call in and talk to a facilitator 7 days a week... I have to disagree. I have tried to call in numerous times and not been able to reach anyone.
Additionally, if you decide to work through vWorker (Rent A Coder's new name), don't be in a hurry to get paid. Their pay periods end on the 15th and the end of the month and then they have 7 days to get your money to you. So, lets say you finish a project on the 1st of the month. That project will go on the pay period ending the 15th. And then it very well may be the 22nd before you get paid. So, almost a month has passed since you finished the project.
Additionally, when getting paid, even though vWorker has already charged you 15% of the amount that you bid on the project, they still will charge you 2.00 more to process the money for you.
During these possible 21 days, where has your money been? My guess would be in vWorker's bank account drawing interest that you will never see.

---
Permissions in this forum:
You
cannot
reply to topics in this forum